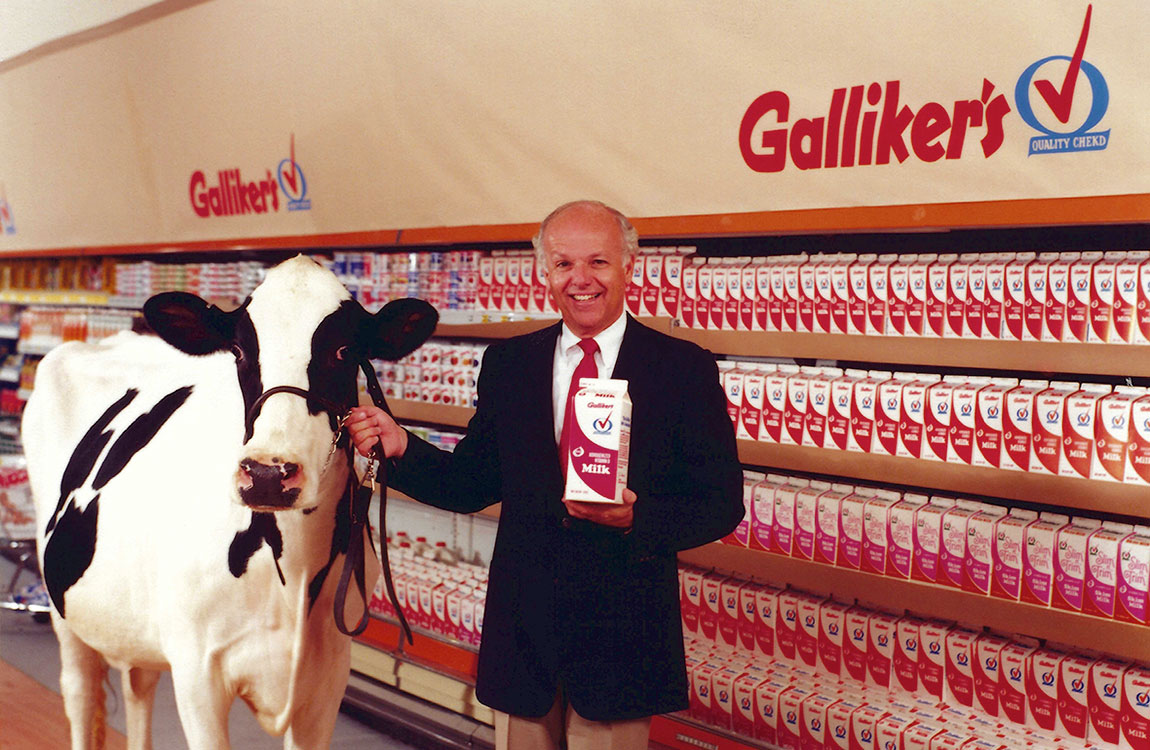 The Galliker Dairy Company has been committed to bringing your family the freshest and most nutritious dairy products, iced teas, ice creams, and fruit juices for over a century.
The Galliker Dairy Story is one of our family's love of quality, local dairy products made in our hometown of Johnstown, Pennsylvania.
For generations, Pennsylvanians have enjoyed the simple pleasures of a cold glass of Galliker's milk. Perhaps, you fondly remember that your grandmother had our milk bottles and milk crates from home delivery. And although times have changed as the milk bottles became yellow jugs and plastic pints, certain things have not: the same quality and commitment to our community remain in every glass of Galliker's milk, as well as our ice cream, iced tea, and juices.
Our company's story began more than 100 years ago as so many small businesses in this country do: with an immigrant and a dream to begin a better life in America. Louis Galliker emigrated to America from Switzerland where the Galliker family had long been involved in the dairy business. In 1914, Louis purchased the Shreve Ice Cream Company and founded the Galliker Ice Cream Company. In 1925, the company expanded into the milk business.
In 1968, Louis' grandson, Louis "Lou" Galliker III took the helm of the company. Under his leadership, the Galliker Dairy Company flourished and expanded throughout Pennsylvania and the larger mid-Atlantic region.
One of the key innovations during Lou's tenure, in 1992, was the introduction of the Lightsafe Yellow Jug, designed to help protect milk's essential vitamins and nutrients from the adverse effects of light. Galliker's iconic yellow jugs became easily recognizable in the dairy case, and for more than thirty years have been a symbol of quality and freshness throughout Pennsylvania and beyond. Another innovation in the late nineties was the introduction of our popular "My Tea" and "My Milk" pint bottles. For the first time, consumers could take their favorite Galliker's products on-the-go.
Lou led the company for 53 more years, working at the offices until a week before his passing in 2021. During that time, both through expansion, product diversification, and acquisitions, he turned a local family business into one of Pennsylvania's largest dairy enterprises, processing and distributing ice cream, milk, iced tea, juice, and drinks throughout 10 states from New York to Kentucky, employing more than 300 people.
And yet, Galliker's has never forgotten its roots as a local family business. We remain in Johnstown to this day with members of the Galliker family still involved in dairy operations. So, whether you're pouring our milk over your cereal, sharing ice cream cones in the summertime, or enjoying our iced tea at your backyard barbecues, please know that we've been proud to be your local hometown dairy since 1914.